Easter Holidays 2009
---
Diary from Madeira (Portugal)

---
---
13. april 2009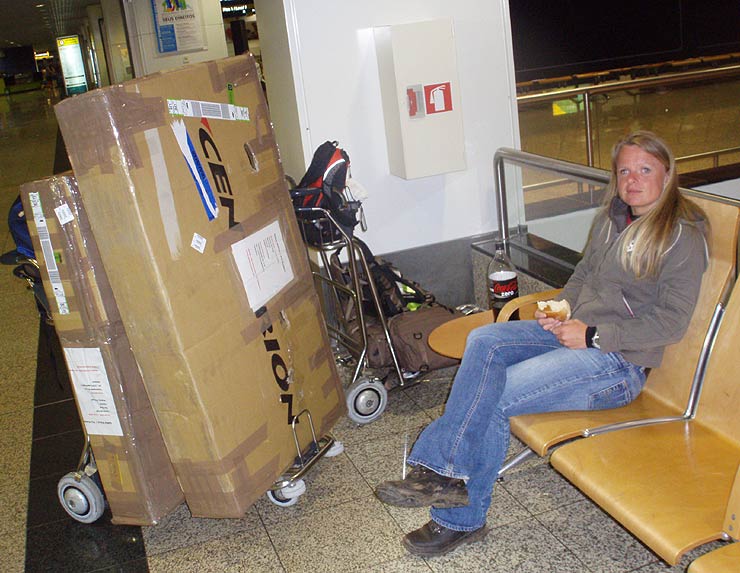 04.45 am in Funchal airport mrpffrmfff
12. april 2009
Far too soon came our last day here in Madeira. We got op very early (9.30!), put on our biking clothes, and then in aero position on the bike, the 1500 m down to our lovely bakery. A little piece of bread, small cup of coffee, and then head towards the clouds in the mountains. But no ! Princess legs again!!!! and "Småpigen" turning down towards the house. The weather actually did not look very promising in the mountains, but everybody can do their training in nice weather, so there was no other option for Gabor than to start the ascend up to today's highest point in 1550 m.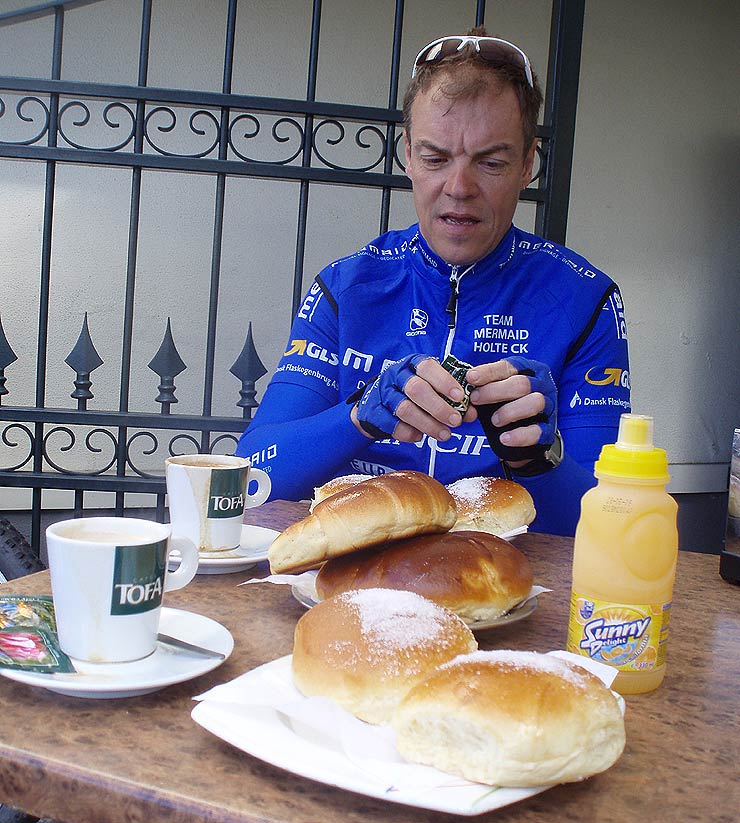 Up until 800m everything went fine, but after that I was sitting in the middle of a cloud. Shortly before reaching the top I was thinking about riding the approx. 4 km further on up to the highest point on the island (to reach on roads), 1818m, but I soon after regretted that, because when I got to the plateau, it was very stormy, raining and was f...... cold. So I put on dry shirts, put on gloves and wind jacket and drove as fast as I could down again.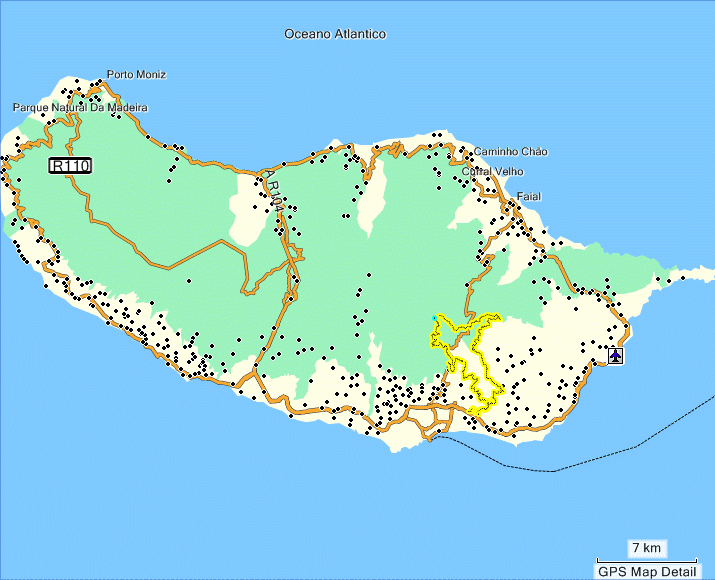 1337 vertical meters on 40,8 km. Average speed 17,9 km/h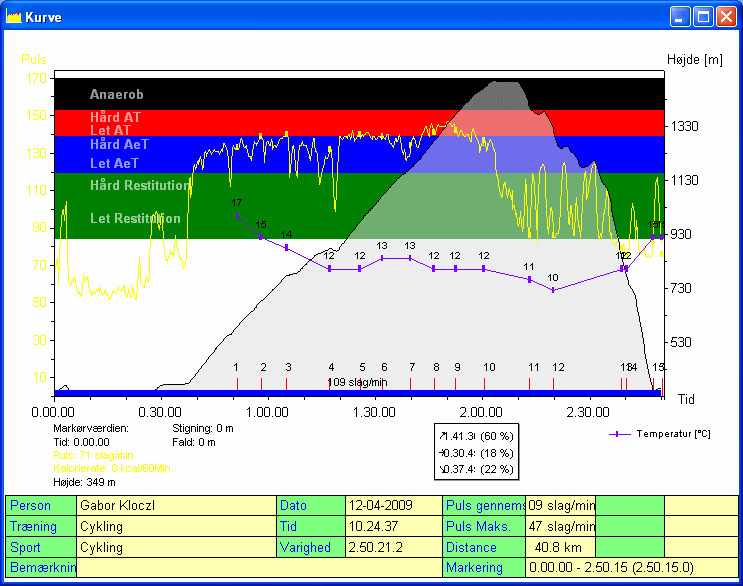 Gabors heart rate file. The altitude measurer was not calibrated, but it seems to be all right anyway.The trip starts in 350 mas and is at it highest point 1550 mas.
When Gabor got back, we went the 5 km to the super market to buy enough food to make it through the day. After that: home and pack up bikes, clothes and house.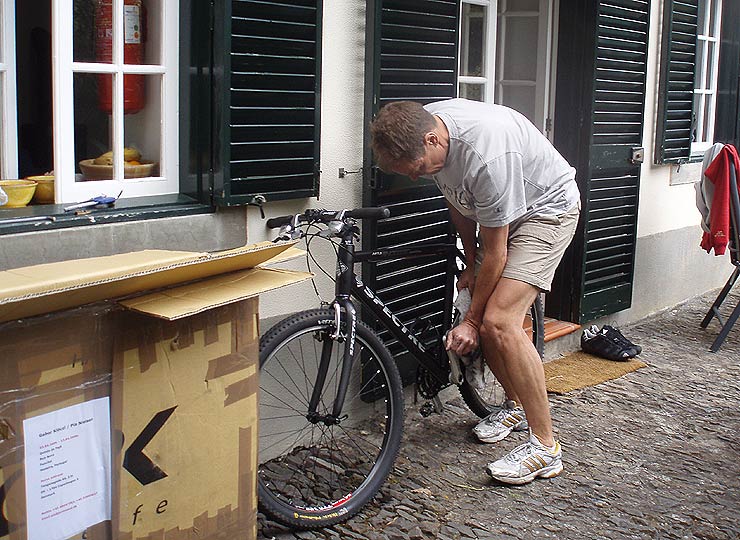 When we had finished packing, we went into the garden to collect vegetables and herbs for dinner. And then we started the barbecue.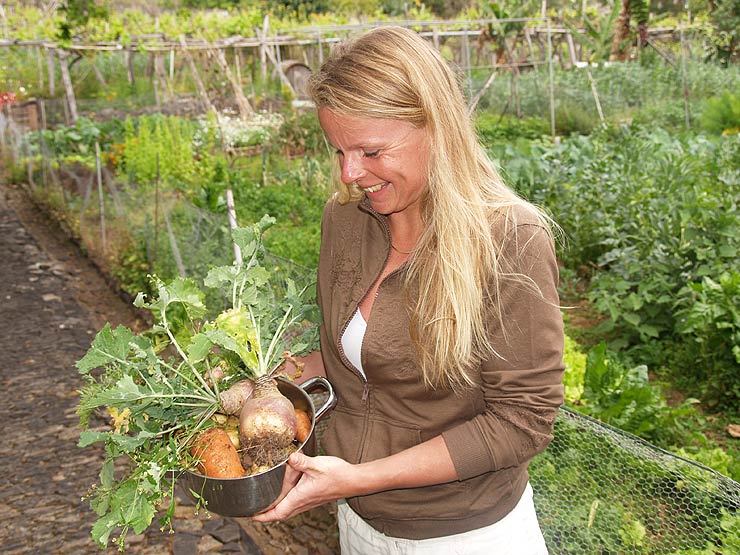 Someone as better at the rough work whilst some are better at the more elegant part.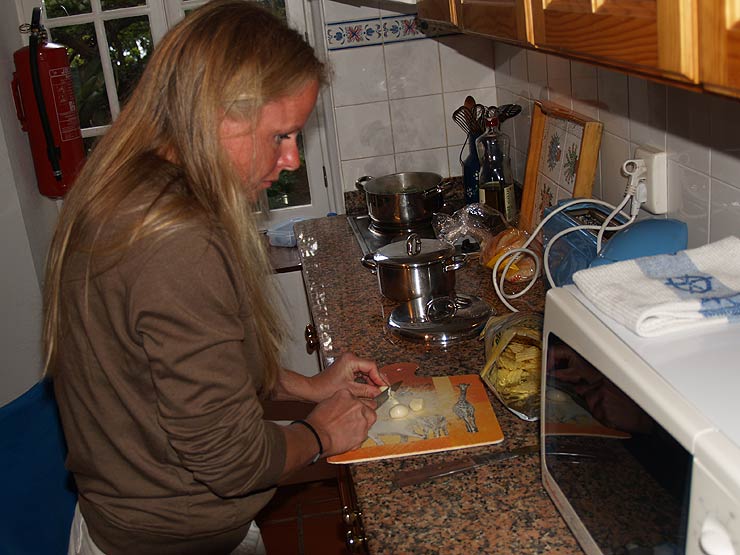 The master of garlic at hard work, while Gabor is fighting in the smoking charcoal maybe with the help of a kis (hungarian for "little") Coral (or maybe two, but they are very small 20 cc)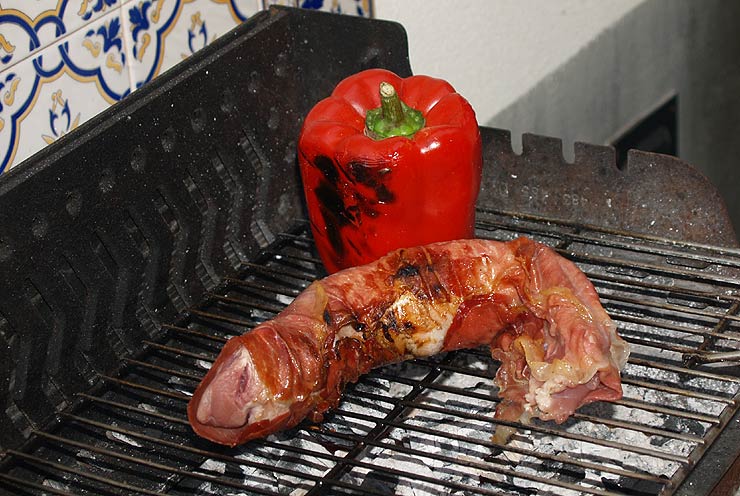 11. april 2009
Do not ask me how, but this morning, Småpigen was where she was supposed to be! Some of her friends must have found her somewhere in the forest, what do I know?
Todays bike ride took us to a small town on the north eastern part of Madeira. Actually not that far away, measured in ordinary easily ridden kilometres, but a serious enough business here in Madeira, with its own kilometre system. Nothing here is easily ridden. Not todays 60 km trip. Before the end of the trip you have gotten approx. 2000 vertical meters into your account. For comparison a typical Mallorca trip of 100 km will give you no more than 1000 vertical meters. So it is serious business here. But on the other hand we do not need to worry about drowning on the way :-)(Mallorca has had terrible weather during this spring!). As usual Småpigen had "morning princess legs" for the first half to whole hour, but after that the engines got started! The old man had on the way home to say good bye to the little blue rider, who apparently did not want to wait for me hrmprhffff, princess legs my a...
Well but we fortunately made it home, both of us, after 3 h 35 min, which gives an average speed of 16,9 km/h!!! We have not yet been over 18 km/h in average on a trip down here. Gabors long solo trip a few days ago was driven in 17,0 km/h, without taking a breather anywhere along. Well, relaxing on the bike does not make you good! and the season is starting any minute now - the first time trial takes place on April 19th...and after that the regional championships in time trial and "Sommer Cup" also starts in April (uhhh). Småpigen can take things a little bit "easier", since she does not have to be in full trim until August (EmbrunMan Triathlon August 15th). Furthermore she can look forward to 4 weeks in the warm, sunny Andalucia, to fine tune the shape.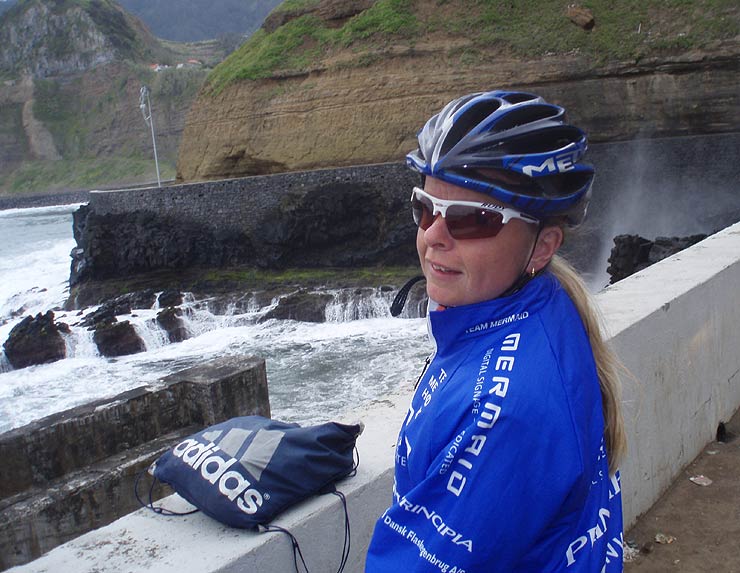 So, now we are here in Porto Da Cruz, watching the high mountains and a lot os water. That is easy enough, but around the corner awaits a steep, but beautiful ascend. Fortunately, for Småpigen, it was probably encouraging to make distance to "the old fat one" on the steepest passages of the ascend (+15%)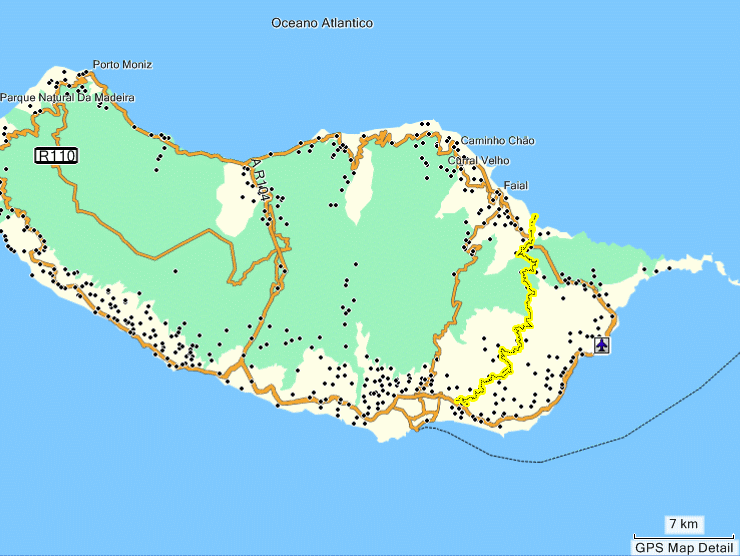 1960 vertical meters on60 km.

The ascend fra 30,6 km till 38,0 km had an average grade of 8,7% (for comparison the Sa Calobra ascend on Mallorca is 10 km long with an average grade of 7,1%). From 30,6 km till 37,0 km the average grade was 9,5%. And from 32,2 km till 37,0 km it was 10,9%.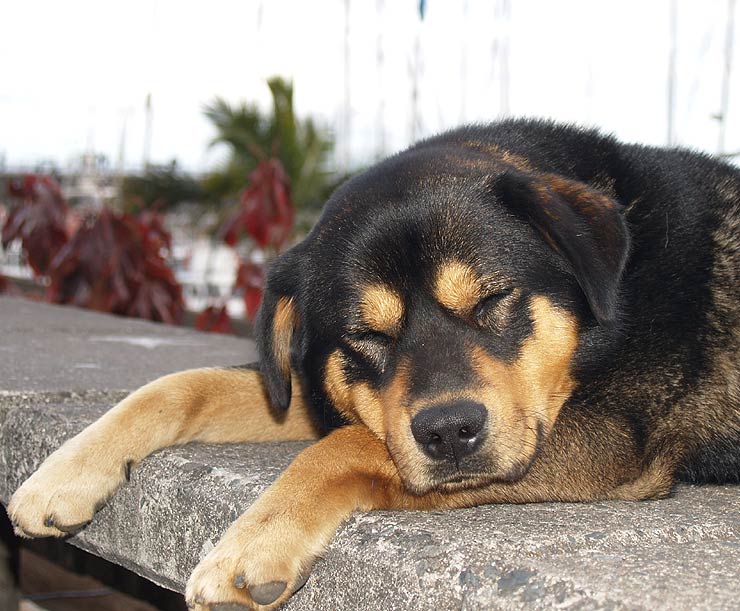 This fine chap would Småpigen really have loved to bring home (no secret that she misses having a dog again)
we found this fine doggy down by Funchal Marina, where we had walked to, to go out for dinner. Besides that we used the opportunity to go online and put our diary on the web site. Every time we have had to do that down here, it has more or less, developed into a farce, where you could see Gabor running frustrated around with an open laptop, to find the best signal...apparently there was supposed to be a Free Wifi zone by the Marina, but all three times we ended up drinking a watery beer at PizzaHut, while being online on their net:-)
while Gabor has been struggling to achieve the best signal, Småpigen has spent time finding dogs to pet. That was fortunately not very difficult:-). This fellow here was just about to be put into our back pack! But Gabor dragged Småpigen away in time. Hmmmm!
We went over to the old part of town and found a restaurant serving us some really good red meat, accompanied by singing ang guitar-playing waiters. We had a really good time there. Since it was Saturday night and in the middle of Easter, we thought that there must be a lot going on in the city tonight - that was not the case though. Then we had to make some ourselves. We went into a little bar, containing a bunch of (to put it gently) middle aged men. i guess there were not many tourists in here, by the way we were evaluated:-). The servings were simple. either you drank Coral or a glass of Madeira wine. we tried both. The bar tender was a big man, walking around very slowly, but with the situation completely under control. Nothing escaped his attention (except when the lottery was on TV, he then spent 20 minutes controlling his coupon;-)). For the first time here, Gabor made friends in the bar. A little gentleman would really like to talk, so they took a man to man talk - i do not think any of them found out what about:-)
Småpigen sat next to a police officer, who was there for a couple of Coral and read the paper...so for once she behaved nicely!
When Gabor and his friend no longer could think of anything to talk about, we went for an ice cream (and some dog spotting!) on the Avenida do Mar. Later we took a taxi home. There is actually a rather lively bus traffic on this island, covering even the remotest areas and small streets, but none of them seemed to leave when we wanted to go home.
10. april 2009
Today Småpigen started proclaiming that she had "princess legs", and therefore had not any biking in mind...Well so what? instead she had thought of something like sun on the terrace, good book, peace and quiet, while Gabor was out burning excess energy on the bike...but, but, but...Gabor obviously also had pricess legs, so he proposed a levada walk. all right, good idea, lets do that! We did though bike down to our bakery friend (who looked very tired this morning - must have been up late!) and took the usual amount of breakfast, spiced up with some levada walk tips. We rushed home, only to discover that bus nr. 77, which would bring us to Quatro Estradas, which was a good starting point for a little stroll down Levada dos Tornos (6 hours), would be 500 m (uphill of course) from here in less than 15 minutes. So we were in a hurry to find walking boots, maps, GPS etc. we hurried up to the bus just in time. We have always found it smartest to go by bus to the farthest point of the walk, and then walk back home. In that way we do not end up very far away, with limited or no possibility of getting home.
Well we got up to Quatro Estradas (where we have also been by bike), it is actually just 4 roads crossing. Here it started raining and was very windy...but not much else to do than find Levada dos Tornos in a hurry, and start getting ahead. Easier said than done, and a, probably well-meaning, lady, speaking a very pretty and for us totally un-understandable, portuguese, did her very best to lead us the wrong way to start with, although we were actually less than 200m from the levada. This little intermezzo cost us half an hour, but what the h..., it was funny, and it has never done anyone no harm to take a little walk! well we found the levada, and started out in heavy rain...thank god for our Team Mermaid bike clothes, it is suited for almost any kind of outdoor activity, and looks good too! after 45 min the rain stopped, and the sky was clearing gradually. it ended up being the most beautiful sunshine. The levada walk in itself is really pretty easy, due to its level course. There are however certain passages, where you have very steep descends to the one side (giving people lacking sight in one eye some problems = Småpigen), and then we had 4 tunnels to pass on this part of the levada. Since we had assessed that torches were overestimated and for cissies only, we did not bring them! But Småpigen found out that the camera flash was efficient in lighting the tunnel up in small glimpses, giving us slightly better chances of not getting rocks in the head or ending up wet in the levada. Some of the tunnels were up to 300 m and very wet, narrow and slippery, not to mention that it was completely black inside.
The hard part of a levada walk is often to find the beginning of the trip, since the existing maps are too imprecise (we have rather good maps actually, 1:40000 + GPS) and a lot of the trips are not signposted. But that is actually also the funny part, to orientate and navigate. An apparantly completely anonymous entrance to something looking very private, can easily be the start of a levada...so it is about using those eyes properly! We aare getting much better at spotting the levada starts though. The GPS maps are not as detailed as we could wish, we did not succeed in downloading and openig topographical maps, as we usually have when we travel. The combination of map and GPS gives us good possibilities of finding our way though.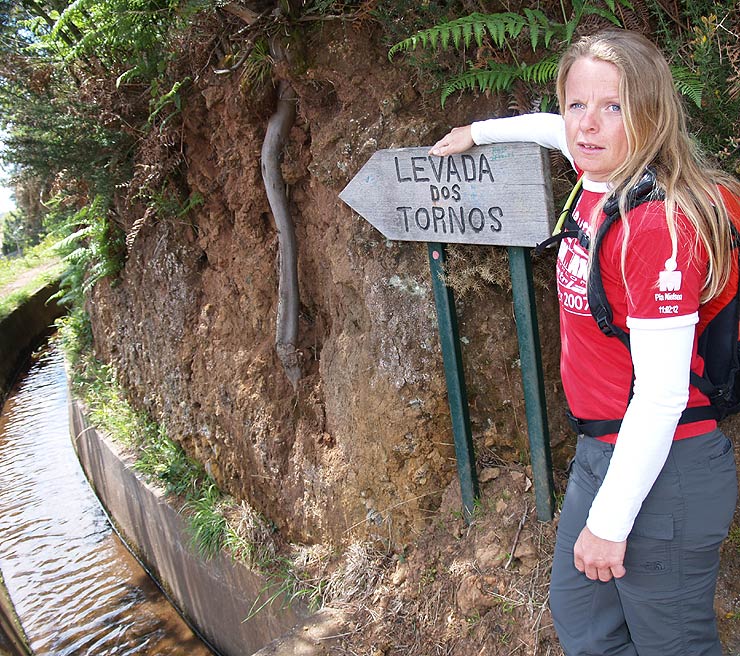 Here is a sign showing us the Levada dos Tornos - but we had to find the levada before we could find the sign :-)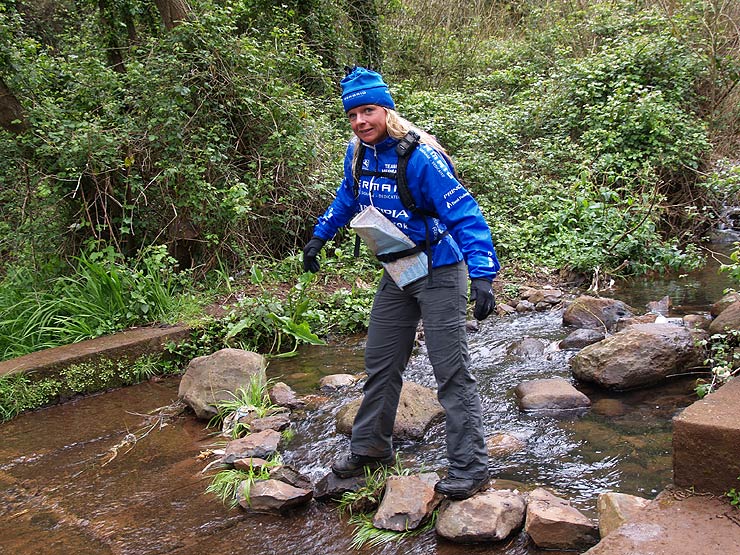 Un passage tres difficile et dangereuse!!!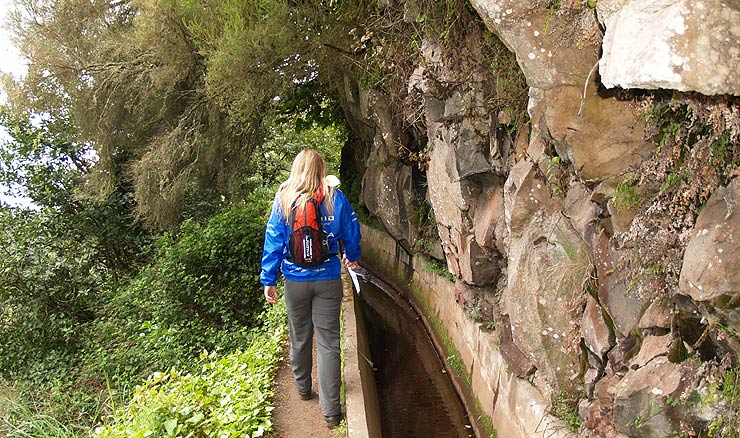 Typical levada. There are approx. 1400 km of levadas in Madeira. The building of these water channels started in the 16th century, with the purpose of bringing water from the mountains and out to the rest of the island, where it is used for watering the crops. Therefore the levadas for centuries have had enormous importance for the people in Madeira. Even today the levadas are very important, for watering purposes and for bringing water to the electricity plants.
This levada here is over 160 km long and is one of the more important ones. When you walk along these levadas, it feels like you are in a different world; there is very silent, you do not see a lot of people (depending on which one you choose!), and it is as if time is standing still somehow. Suddenly you pass a little house, and you practically walk right into their backyard, discovering at close hand how they live their lives. Usully they have a small house, a garden where different kinds of vegetables are grown, a couple of avocado trees, a pig, a goat, and of course a breathtaking view! And I forgot...of course at least one dog, barking vary loud when you walk by. You meet a lot of dogs here, whose purpose obviously is to make most possible noise.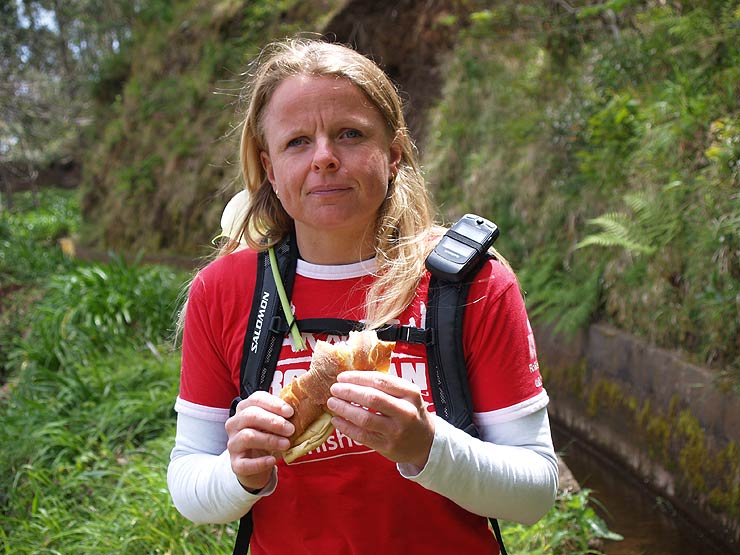 In our rush this morning we did manage to bring a bolo do caco (bread baked with sweet potatoes-and very tasty) and some serrano ham, which made a wonderful lunch for us.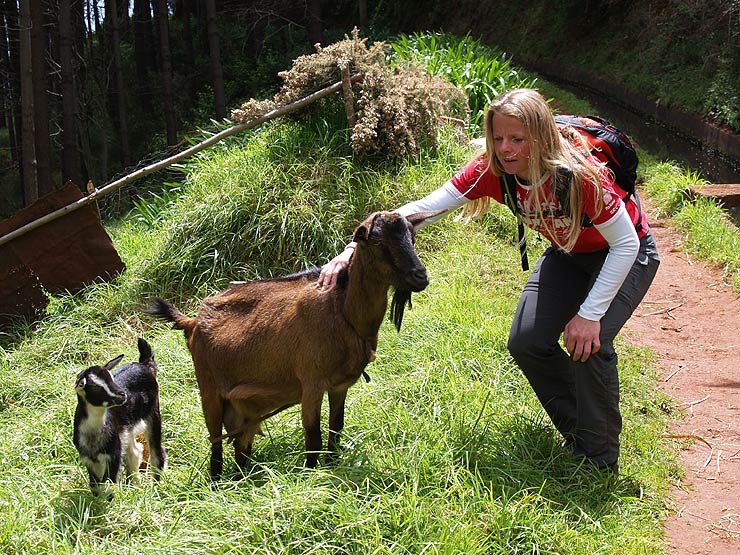 My newest two friends...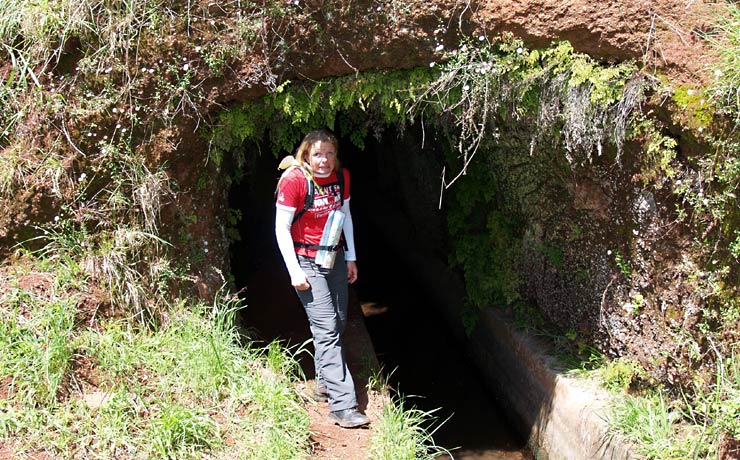 Uh-ah. Entrance to one of todays tunnels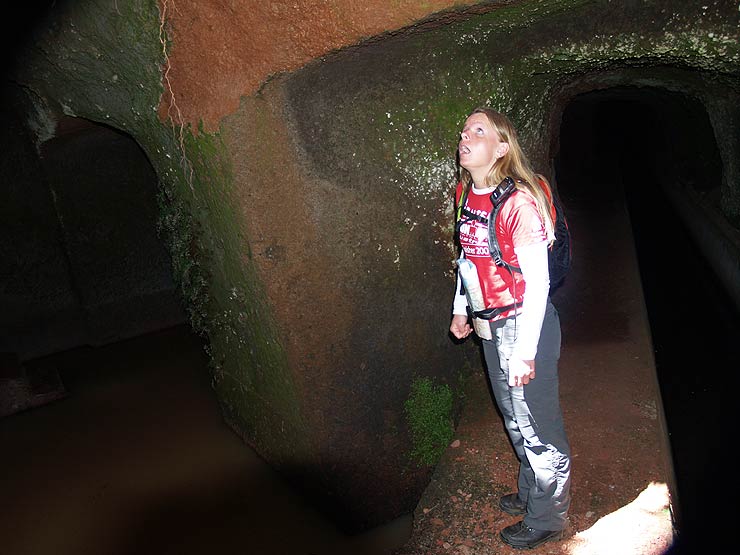 Inside the tunnel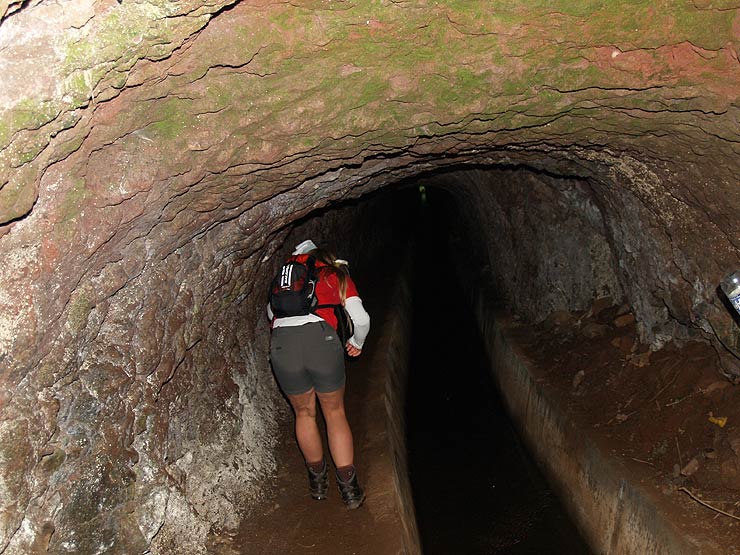 Even Småpiger had to lower the head...the picture is taken with flash, so it looks bright, but it really is raven black in here!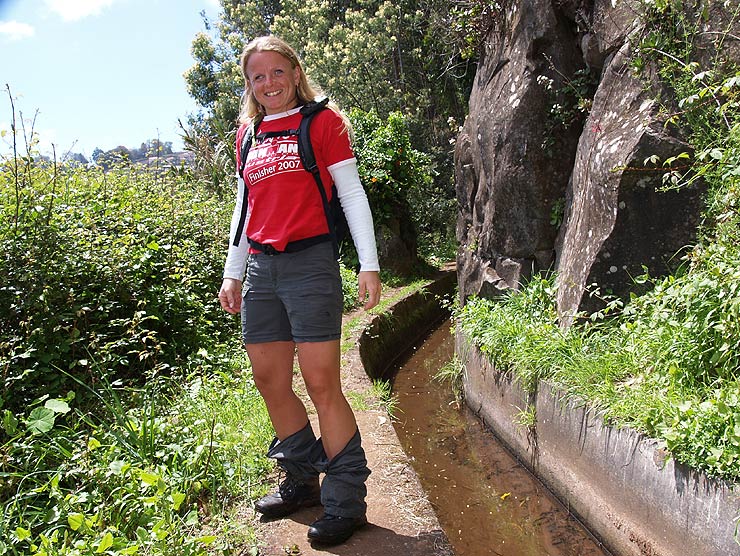 Time to get rid of the pants:-) ...or some of it.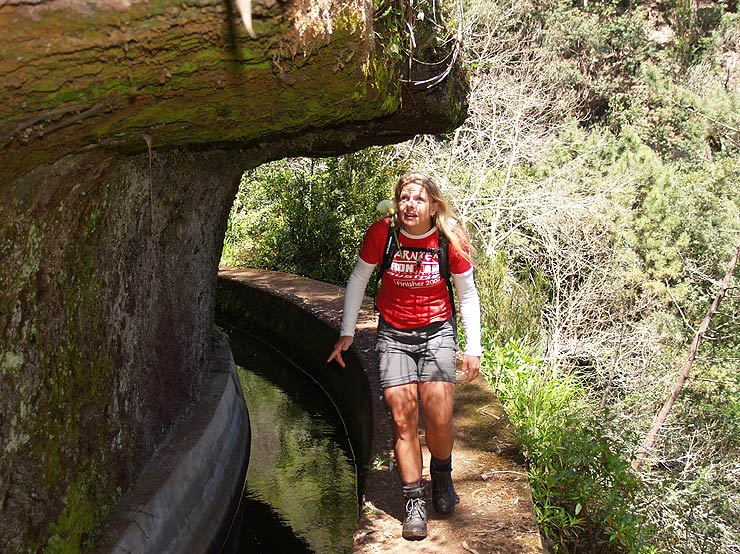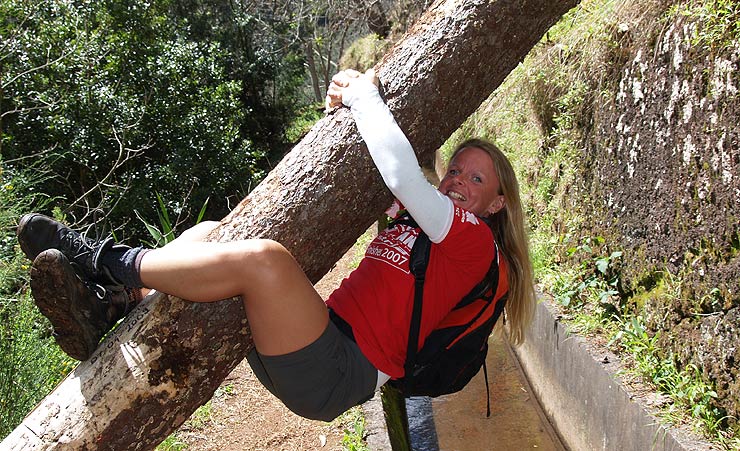 It is fuunnnyyy!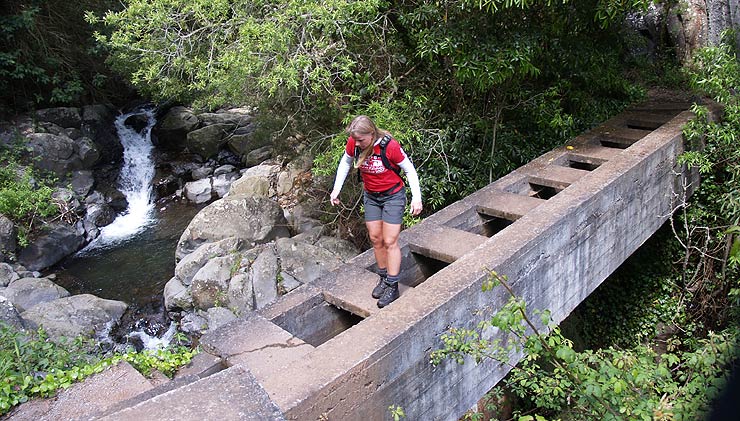 A levada bridge with big holes! Inside the bridge the levada water runs.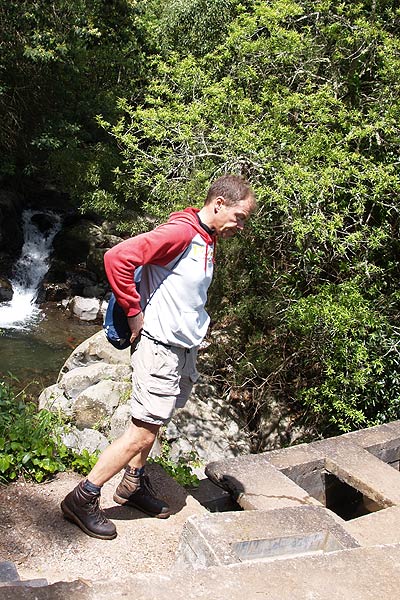 Ups... Where did Småpigen go? Now "Mutter Pips" (=Pias mother) is gonna be really pissed at me...
What on earth am I going to say to her ??? I will try and find Småpigen at the end of the levada tomorrow; in the meantime I must kill time by watching "Guess the price of the pan" on TV and drown my sorrows in mini Corals (20 cc)

Todays levada walk (north to south, a little more than 24 km)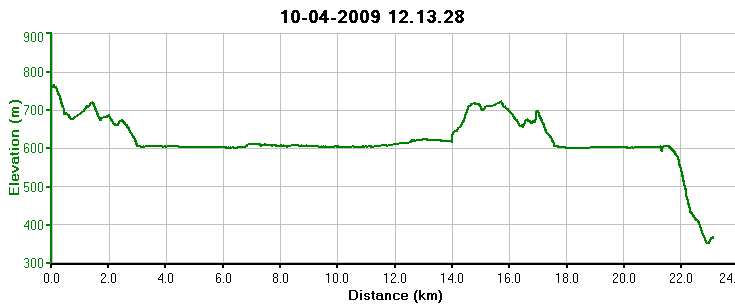 Todays routes profile. All the flat pieces are along levadas, the other ones are transport to and between them
9.april 2009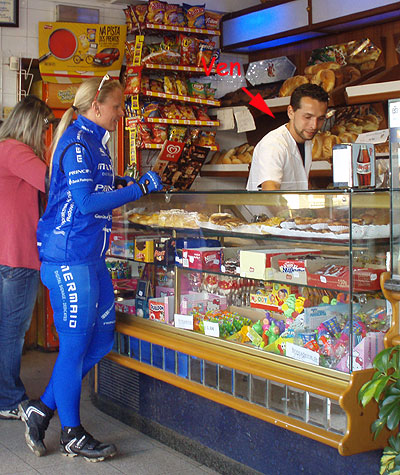 today we got up at around 9 and decided to take a short and easy bike ride of about 45 km with approx. 1500 vertical meters. We assumed that the trip would take 2 hours up to 1400 mas and then ½ hour back down.
The weather was lovely with sun and no wind. The 2 hours to the top and the ½ hour home was correct. An average speed of 17,4 km/h for the whole trip says something about the terrain (we were in blue zone = semi hard speed/pulse).
As usual we started the day with a few large espresso and milk, accompanied by 6 large rolls (see video), down with our dear bakery friend. As usual he asked where we were going and where we had been. He is a very nice guy!
>> Video from todays breakfast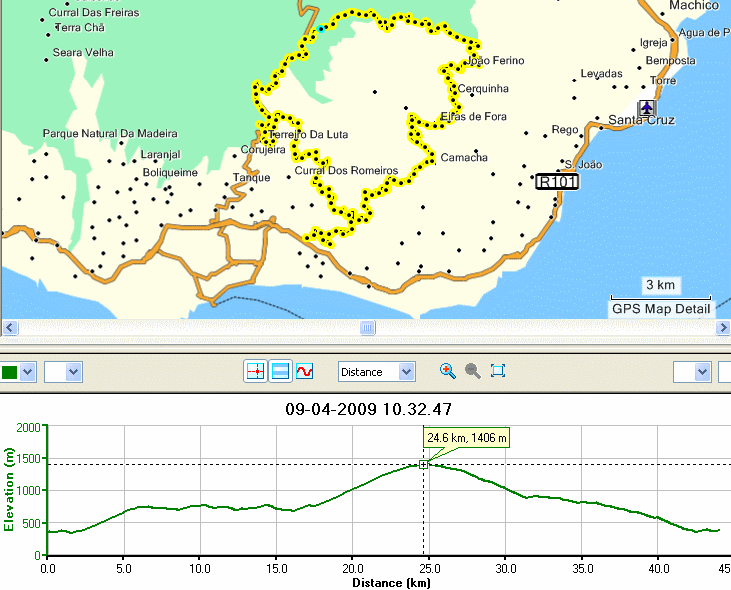 1489 vertical meters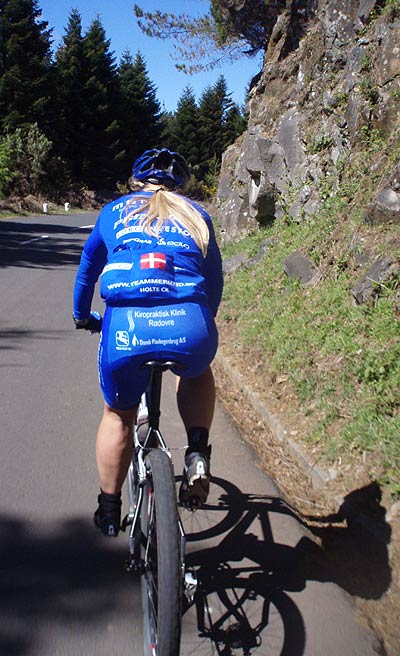 Here is not so many different roads to take on this island, due to its very mountaineous nature, but they are by guarantee very tough and very beautiful If you distance yourself with just about 5 km from Funchal, you furthermore have the roads more or less to yourself. We actually would have liked to find some minor, non-asphalted roads/forest paths to ride on, but since we did not have topographical GPS maps, we had difficulties finding them, but we suppose there are some when you reach the plateau.
Biking on islands like this, with so huge differences in altitude, is very demanding, and you must think carefully what you might need before you leave home. First of all the temperature drops dramatically climbing up, and second of all the weather changes rapidly here. So bring extra clothes, at least to put on during the long and cold descends.
We usually start with short bike shorts, and two short sleeved shirts, and very often we end up with long ditto, caps, gloves etc. when we come home after a long descend.
If you are the type of person who only makes up biking in number of driven kilometres, it would probably be a good ides to choose somewhere else to do your biking, because you do not drive fast here! If you can come home with an average speed of 20 km/h you have either chosen an easy route or have driven very hard, or both. you do not come across any other bike riders here, so to speak, but we have seen a few MTB downhillers. Just like when we were in Tenerife a few months ago. MTB uphill is not in around here, any kind of uphill is actually not in :-). A few days ago Gabor met another bike rider on the other side of the island. He looked as surprised to see Gabor as the other way around.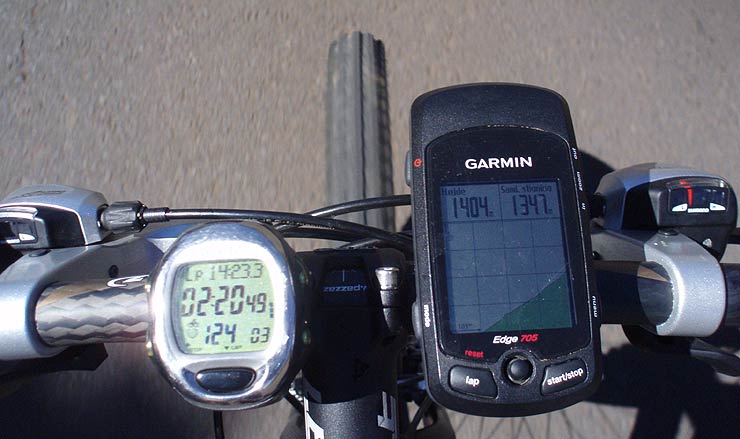 Gabors instrument board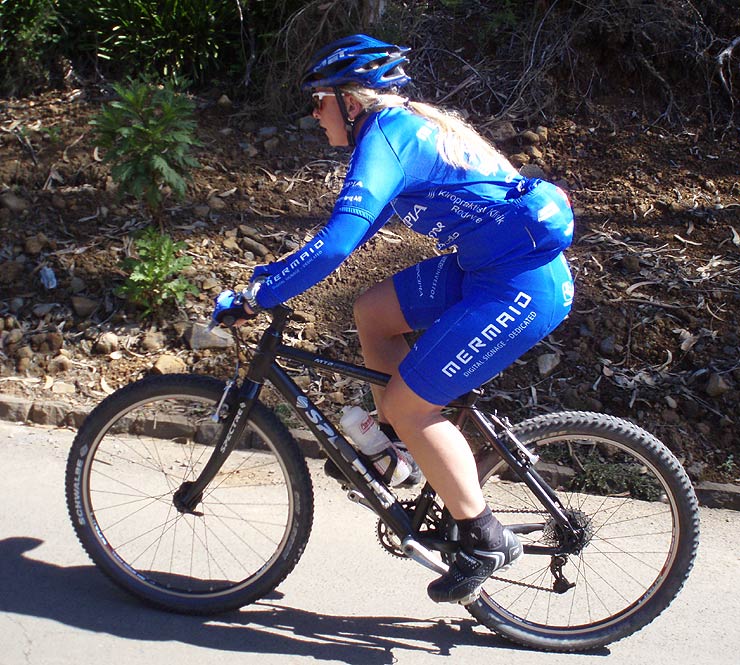 Uphill - jubii jubii jubiii
Here after lunch, which was eaten on the terrace in the sun, we plan to walk down to Funchal to take a look at the city and find a place to go online, so we can put this diary up to you guys out there. Funchal is a very lovely and fine old city, so it gives us a lot to walk around and enjoy. It is also a sharp contrast to "our" lovely Quinta da Fajã, where we live. I guess we will go out for dinner, and we also have to do some shopping, because tomorrow is Good Friday, and I doubt we will find anything open then.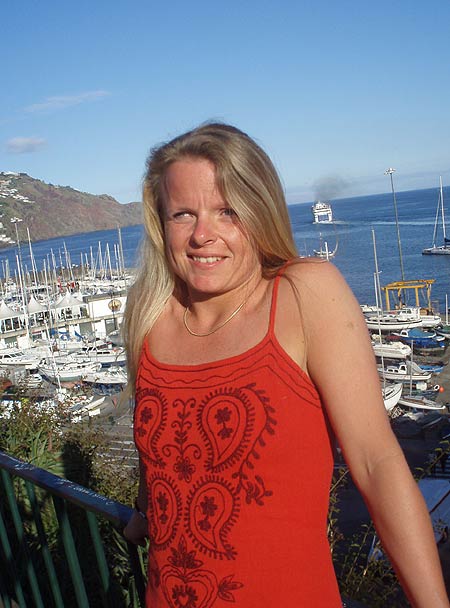 She can also be red with blue background :-)
8. april 2009
Since Småpigen had a rest day in regards to training, the master coach has been awake all night to figure out how he could once again tire her up...So after breakfast (same place and menu as usual), we went towards Ribeira Brava, doing a stop on the way at Cabo Girao, Europes highest cliff towards sea, 580 m. Gabor had said that it was just a short easy trip along the southern coast, and that it did not include passing the usual heights...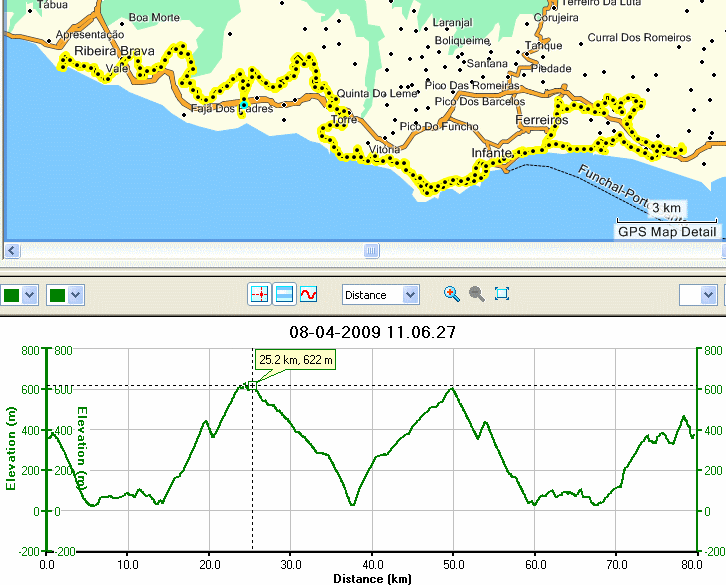 2276 vertical meters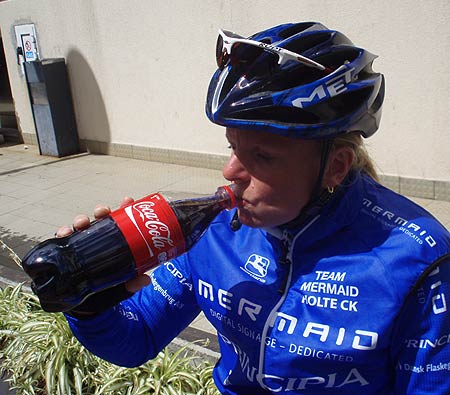 Buuuuuuuut is turned out to be a long hard day at work on the bike, as usual it went up and down, mostly up it seemed...but it was (also as usual) a very beautiful trip, giving us constant views of a very blue Atlantic Ocean
In Ribeira Brava there was (unlike usual) time to have a coca cola, which felt like a luxury out of the ordinary. Well, but we could not sit there all day, had to get back. The trip back started with 12 km ascend...but it get the legs started at least. In Funchal I got permission to buy a "bolo do caco com chourizo"...do you think it tasted good to us?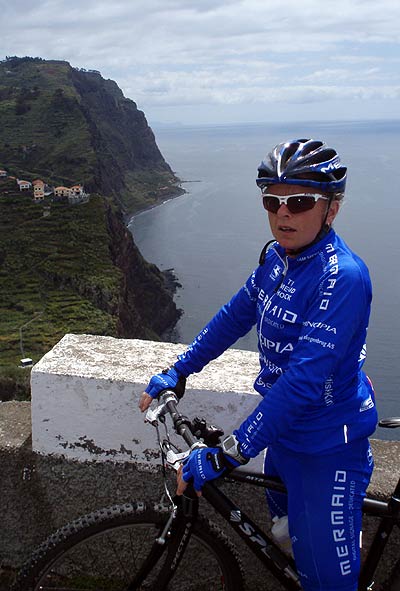 Since Gabor did not had time to do the shopping yet, we had to drive to the supermarket on the way up. On the way home from the supermarket, Gabor had the brillant idea of trying another way than we used to take...excellent idea...it was a very nasty ascend, and furthermore he arranged a dog attack. Thank you very much! After 6 hours we were finally back in The Dolls House, and Småpigen could drop dead on the sun bed.
Dinner: Grilled chicken filet, with rice and fried vegetables from the garden. To that a single Coral (we could not afford the very expensive wine every day, we almost gave 2 euro for the bottle we had yesterday!)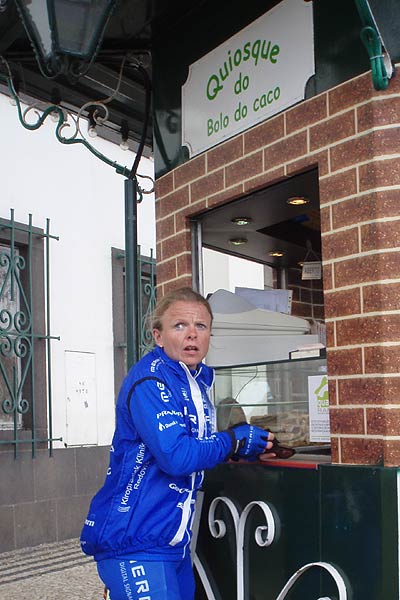 One cannot send Småpigen to buy food without troubles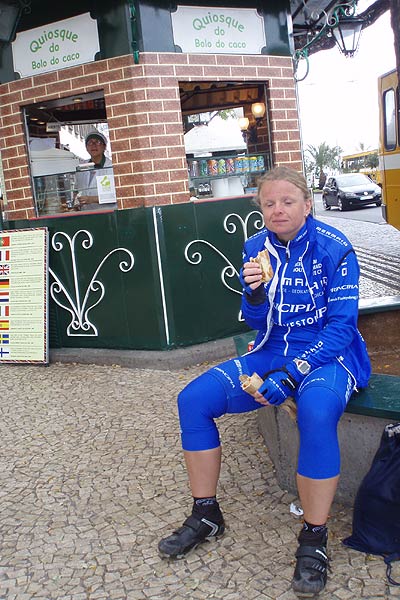 Somebody enjoys the meal while others are about to
get choked in dry bread :-(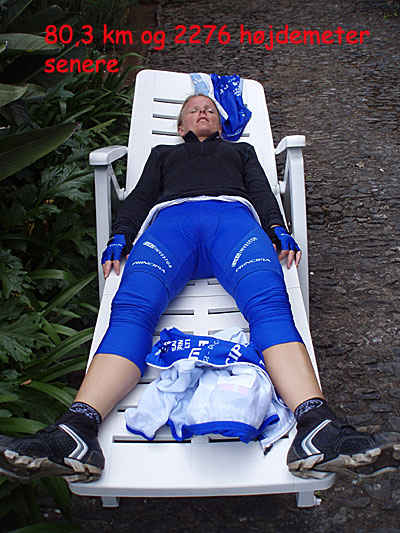 Again, again she thinks that it is all about relaxing all day long.
I AM THIRSTY!!!!
7. april 2009
Småpigen was told to take the day off with regards to training, due to sore thigh muscles, here the second day after the race, so after breakfast Gabor went out on the bike on his own. Småpigen stayed home in The Dolls House, and was planning some hours lying in the sun. The sun disappeared after a while though, and it became quite windy.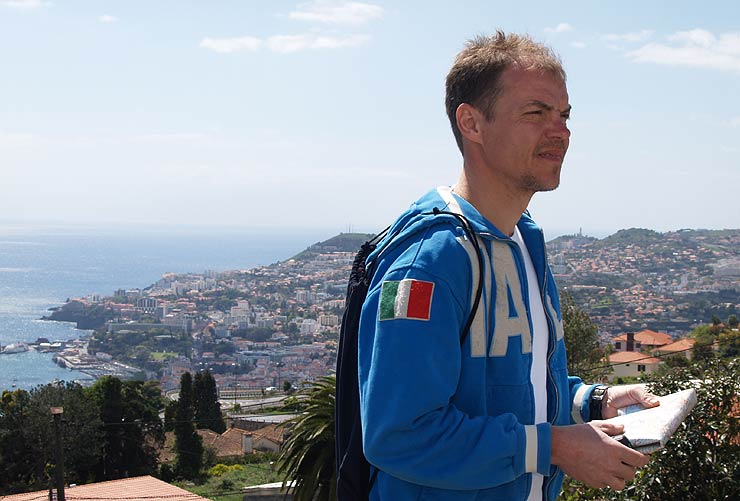 Gabor is navigating (Funchal is seen in the background)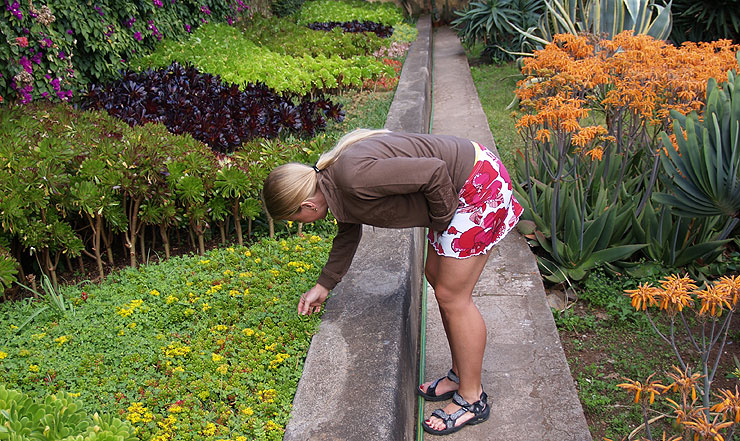 A golden rule when you are in botanical gardens is to keep your hands in your pockets! However, that rule does not apply to everybody!!! NB: Right now we have such a plant as Pia is "looking" at!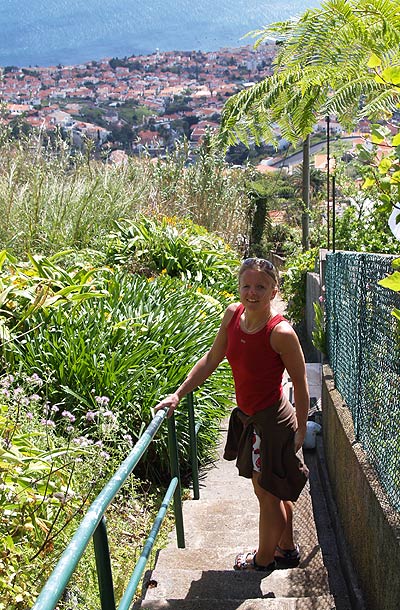 When Gabor returned from his "picnic", he had a piece of bread and a sip of water and shortly thereafter I dragged him out for a walk - target: Botanical Garden. we arrived there after a fine walk along little roads and paths (veredas).
Botanical Garden was like a piece of Madeira with a fence around, and with the plants put in a system. All around Madeira, flowers and plants are present in great abundance. But it was anyway a very nice old garden, placed on a mountain side (as anything else is). I guess we supplied our (fast growing) collection of succulent species with a couple of new ones. On the way home we bought some food and went home to make ourselves some dinner. The evening was spent inside in front of the much appreciated wood burning stove, and I guess mr. and mrs. K took an occasional nap in front of a very interesting quiz on TV. Pia sat in the armchair with the stove on one side and the electrical heater on the other side and slept like a baby. What a tough day for her:-x.
At some point during the night, she had the nerve to wake me up only to ask me who was the drummer in the Beatles (a band that existed before she was born!!!). She obviously took an active part in the TV quiz...the second after she slept again, but she managed to wake me up thoroughly!!! hhmrrpff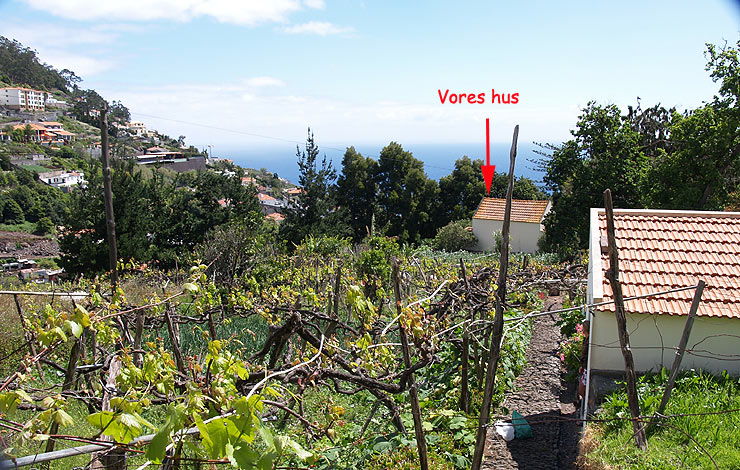 The property we live at (Quinta da Fajã) is owned by a man named David. He is not at home at the moment, he is on vacation. He has got this fantastic property that lies a few km above Funchal. At his property is the main house and three smaller houses, of which we have rented "The Dolls House". The houses are placed separately with each house having some "private" space, so it feels like you are all alone and can enjoy the silence here!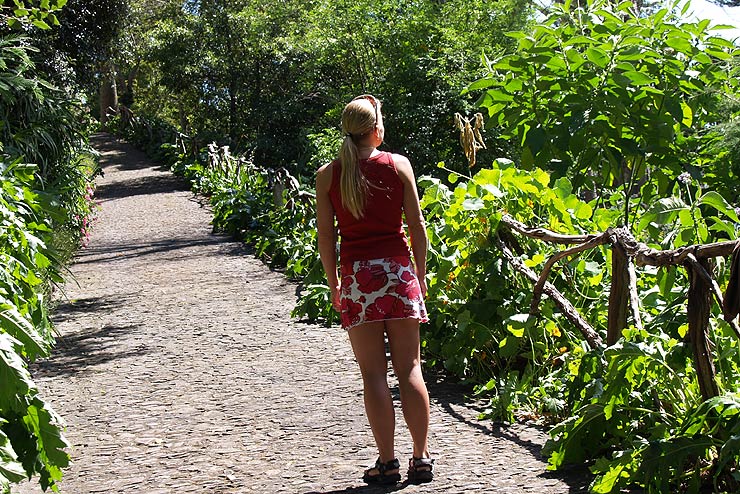 The driveway up to our house
You enter the property through the main gate and the very long lavastone paved driveway is making its way through wonderfully smelling eucalyptus trees, lilly of the nile, jasmine, caprifolium, pelargonies and a number of other, to me, yet, unknown species.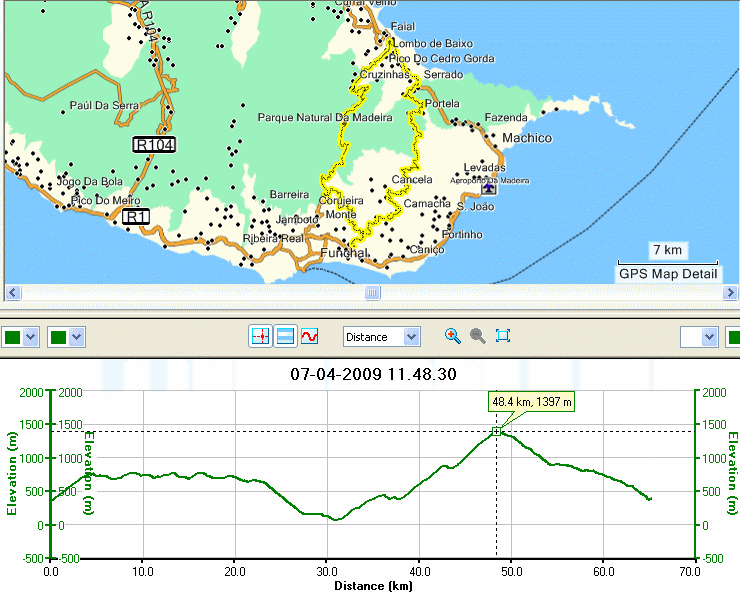 2375 vertical meters
Regarding Gabors bike ride it so happened to start raining in Camacha, after only half an hours climb. For a moment I considered turning back, but thought anyway, that it was too chicken-like, so I continued north, directly into the middle of the storm. The descend to Faial was very cold and the roads very slippery, but again, that was nothing compared to what was coming...Two hours non-stop, extremely steep ascend with temperatures down to 7 degrees celsius, topped up with constant rain all the way up to 1400 m.
At this altitude the weather shifted to sunlight, but it was still very cold to descend with a speed of 50 km/h in soaking wet clothes in temperatures starting at 7 degrees. It summed up to 65 km with 2375 vertical meters and 4 hours in the saddle. The first half took 1 hour and 30 minutes while the second half of the trip took one hour more.
I have ridden many hard trips in my life, and this was certainly one of them! apart from that the north side of the island was fantastic, beautiful, and at some places poor. You felt like being in another period. Super exciting place and a marvellous landscape. Must see if I can persuade Småpigen to come, but unfortunately her gearing are not very well suited for these kind of amusements, at least not if the trip back is going to take us the same way I took today!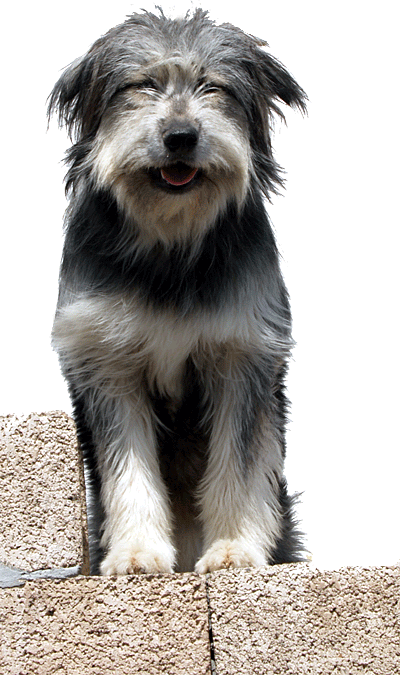 Dangerous watch dog in the vicinity of Funchal
6. april 2009
>> More pictures from the race yesterday
6 large rolls/croissanter + 4 large espresso with milk + 1 orange juice for less than 5 euro! That is cheap here in 2009! After Gabor had played with punctured tubes for about half an hour here this morning, we could finally roll the km down to our bakery to have breakfast. A really convenient way for us to get lovely fresh bread and a good coffee. The bakery is situated on our way to the highest point of the island, which was the goal for todays trip.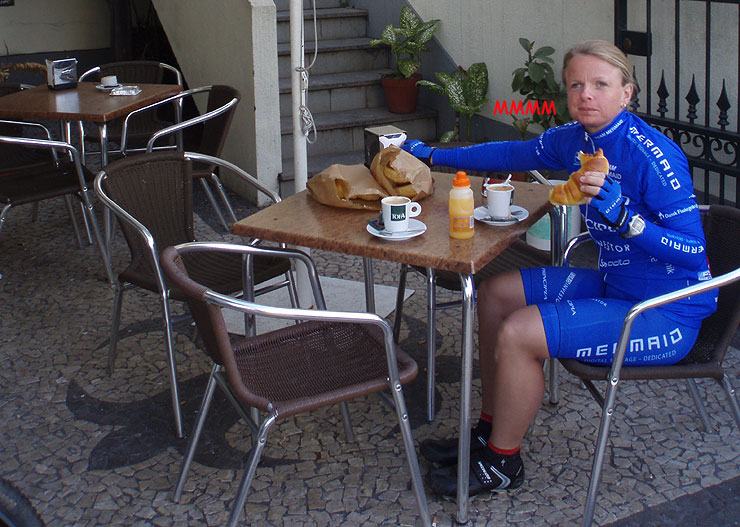 The trip was planned to cake into consideration that we were racing yesterday :-/...an easy trip with about 2000 vertical meters...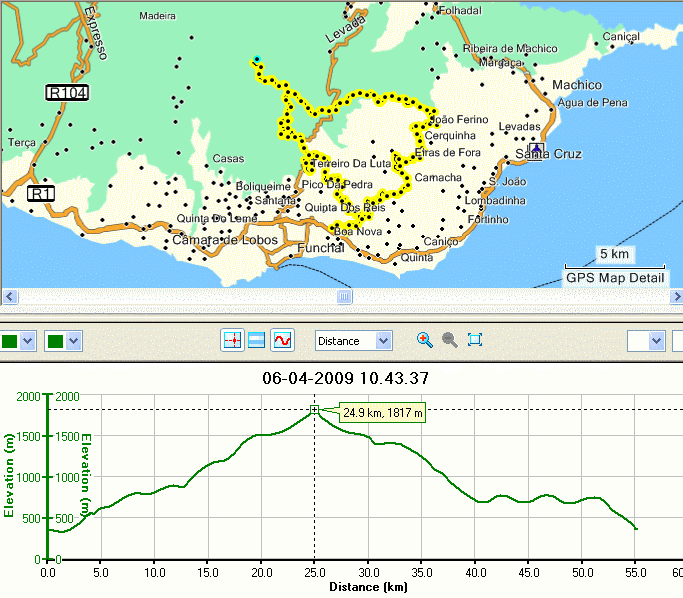 After a couple of hours of pedalling through the beautiful landscape, gradually shifting from very green forest to naked desert and from warm weather to cold and stormy weather, we reached Pico do Arieiro, from where we were planning to ride/walk to Pico Ruivo, if possible? We could see that it would be too difficult to take the trip with our bikes , because of the very steep climbs and stairs, and since we did not want to leave our bikes here, we decided to not go the last trip to the highest point.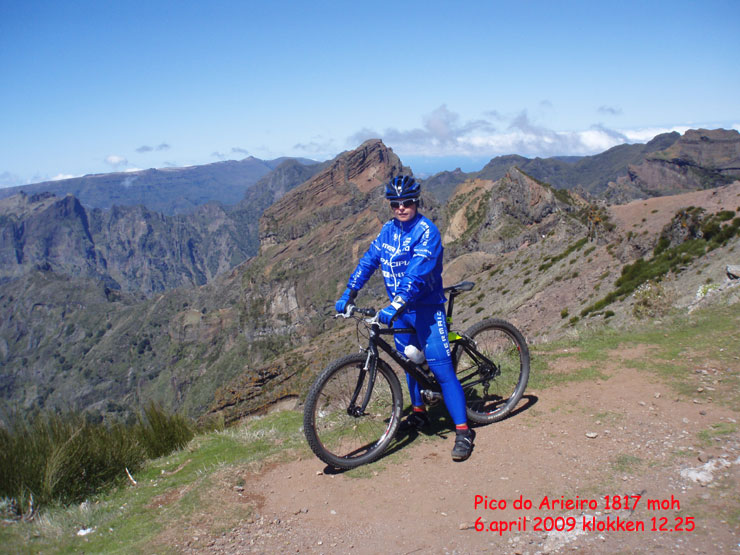 Småpigen (Pias nick name, means little girl. Pia is 159 cm tall) on the top with gold legs :-). There was a strong wind and was pretty cold too. We stayed here for a quick coffee, and then it went quickly down towards warmer weather again. Småpigen found some up until now, well-hidden talents for downhill biking...it went OK today. Only a single turn was taken wrong - luckily no cars there...!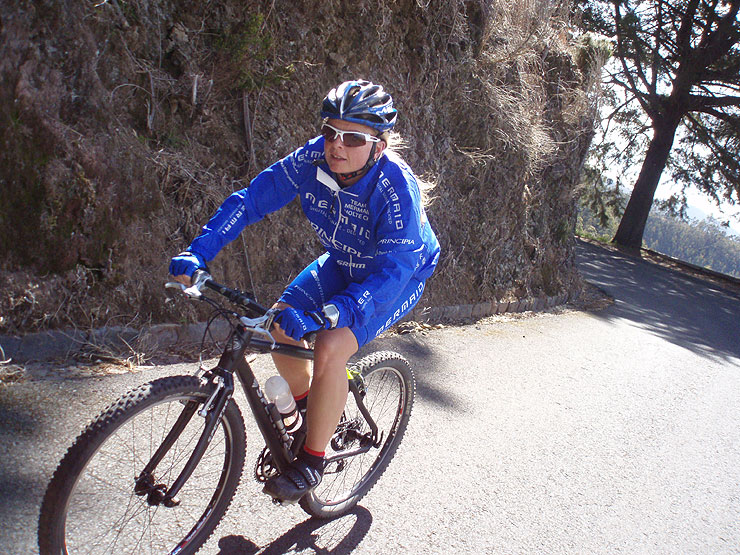 Småpige on her way to the top, here 6 km to go, and 400 vertical meters. Gabor is lacking 1 meter less.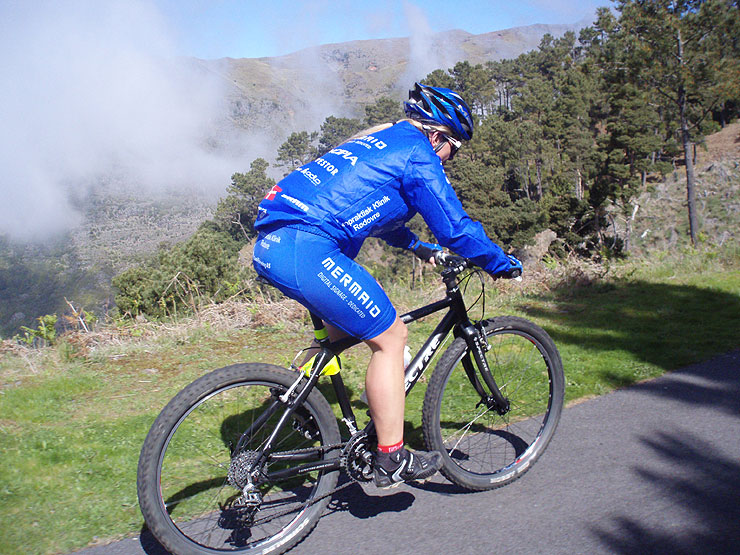 Jubi jubi jubi - gold legs. Who would want to stay home lying in the sun in 25 degrees celsius and look at the price from yesterday? Not me (says Gabor). Jubi jubi jubi tralala discoteca hoy hoy.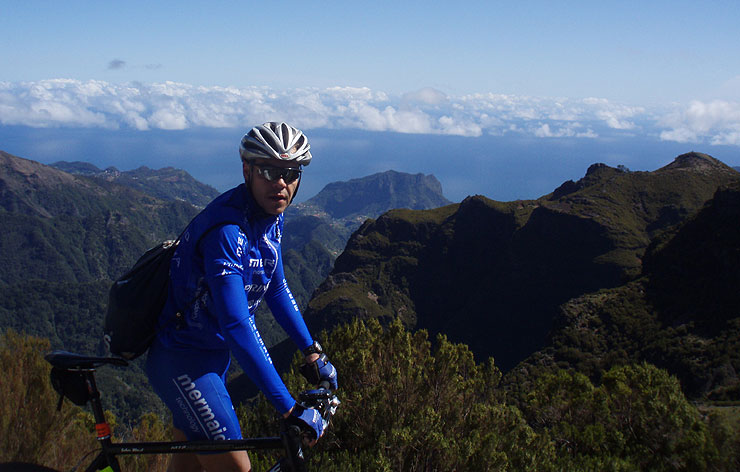 "Why will you need your lipstick right now? It is lying under the pokal and your pillow. Pull yourself together ond step in those pedals! Aero position! There is not coming any cars in those turns!!! Besides: why do you think you are wearing a helmet? Use for G... sake your GPS to predict the turning of the road..."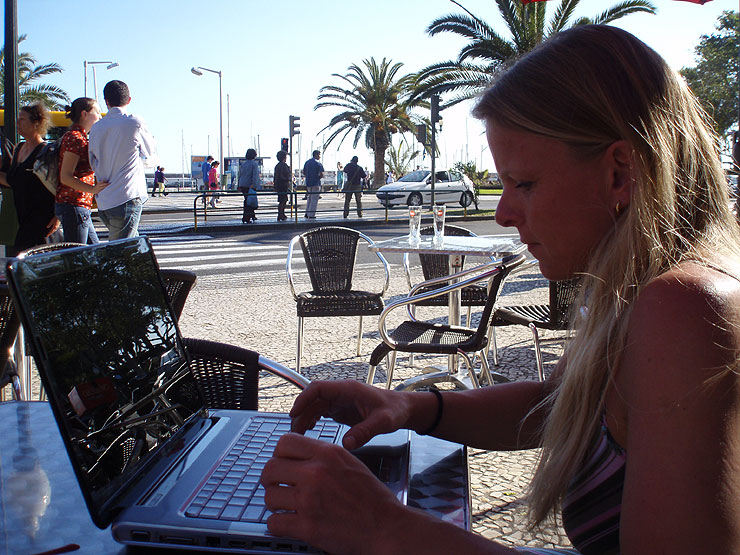 Webmaster is uploading todays story to jernmand.dk fra a PizzaHut on Avenida do Mar in Funchal. Gabor sat at the table in the back, but has just left to take a p...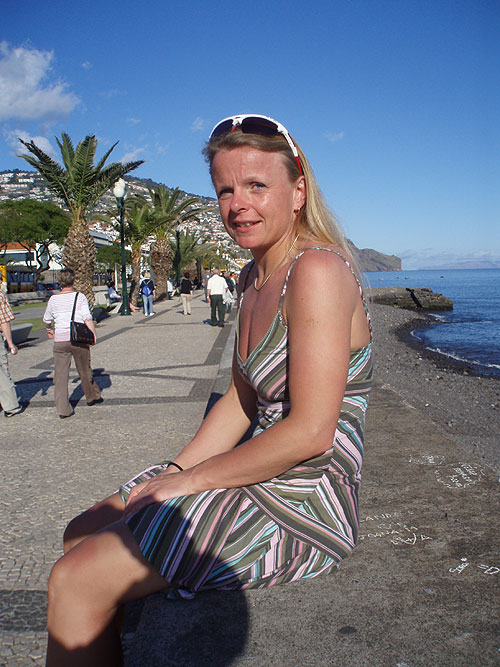 JUBIIIIIIIIII
Summer dress, sun og water.
After returning we once again washed our clothes and took a breather on the terrace together with 276 lizzards. Funny little creeps. In order not to burn their feet on the hot stones (Sorry mallorca people!) they lifted their legs in turn. It looks really funny. i know that you will now be asking yourselves why you do not get a picture of this highly scientific biological phenomenon...hrmmmppff maybe tomorrow.
After this we walked down to Funchal to upload this diary, and Småpigen was so fortunate to be invited out for dinner (among a lot of germans, french and english people).
We have quickly gotten used to our very peaceful house and garden, where we practically have it all to ourselves (apart from the 276 lizzards!) The weather was, again today, absolutely wonderful.
It was nice to be in Funchal again, we spent a lot of time here when we visited Madeira 1½ years ago. It is a fine city. Here are quite a few tourists, but it is not that dominating
Here in Madeira it is really cool to bike, but very tough too! Should you feel tempted to do it, can we only recommend to bring MTB instead of racers, since it offers a greater number of possibilities to come round the island, and you are not depending on the asphalt being good. The quality of the asphalt varies a lot and there are often holes in it. Furthermore can we only recommend to use GPS to ride after, it gives you a certain ease, that you constantly knows where you are, and helps to find your way around. After the trip it is always fun to see exactly where you have beed and the distances covered. You can also plan next days trip in details and tranfer it to th GPS from the pc.
What tomorrow brings, no one knows yet, except for Gabor. Hmrpff. Now we hope that we can sleep from our aching noses and backs - had quite a lot of sun today (sorry mallorca people!)
5. april 2009
3 Prova Campeonato Regional Powerade - Cross Country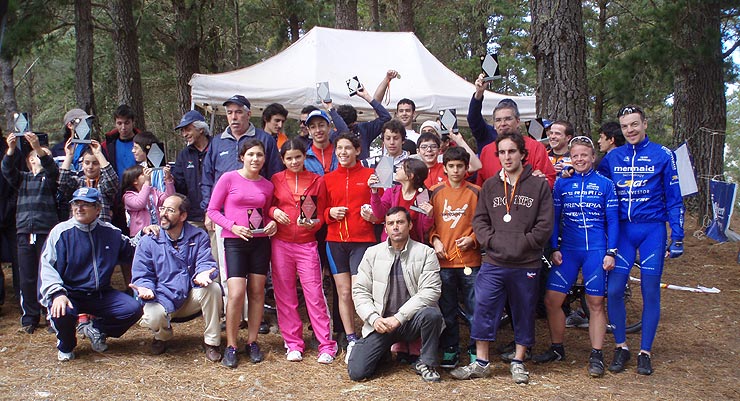 Pias MTB friends (and Gabor). The guy in the middle was very important, but we haven't found out why yet!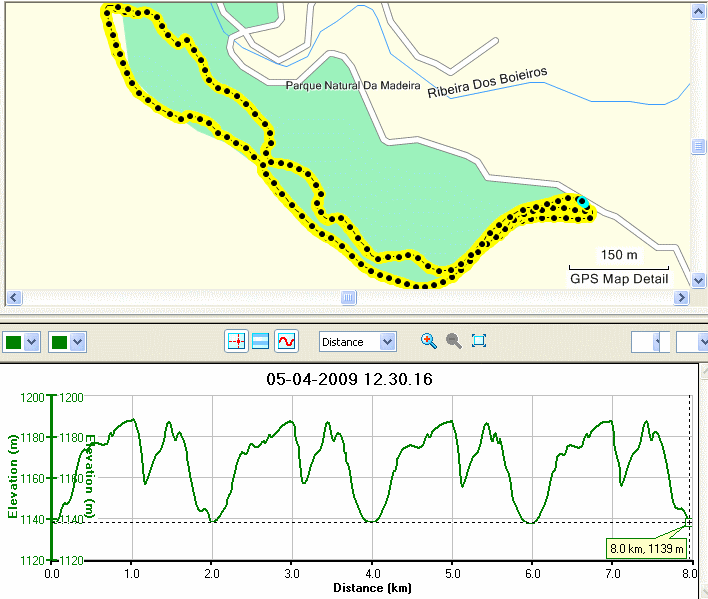 Course profilen for the 4 laps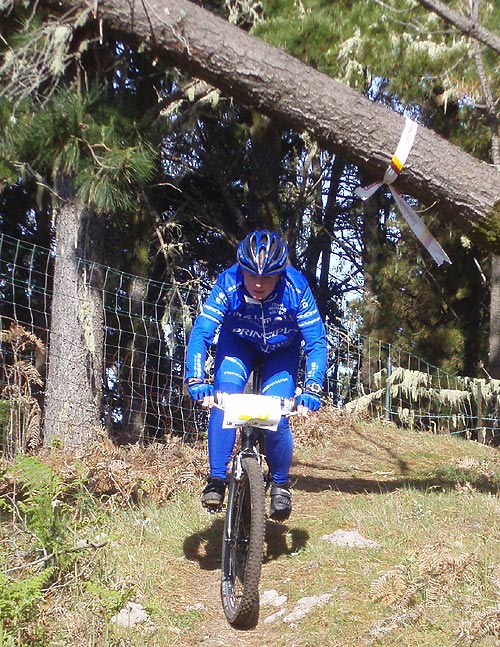 After a good nights sleep we got up and hurried down to breakfast the usual place (there seems to always be a very hectic activity here, probably it is where you meet here in Boa Nova) and after that, home and prepare for the race. We were picked up 9.30 of the taxi and was driven up the starting point for the MTB race which was in 1100 mas. We were received by the people in charge of signing up. They already knew who we were (Alex must have spread the news that we were coming). We also met the head of the triathlon club here, and had exchanged email addresses etc. and an agreement to meet if/when he comes to Denmark. Really nice to get to know nice people like him. We were there early enough to try the course twice before start.
Being naive and according to Alex (bike mechanic friend) it was not a very technical MTB course, so we had imagined something like rather big, level paths where we could really use the good shape we are in...do you think we were fooled? Ihave to mention that Alex rides downhill MTB also, so in his opinion it was probably nothing, but to us Danes...uh-ah, a rather difficult and technical single track course with a couple of steep ups and downs. The easiest passage was very narrow and very close to a levada, which was quite challenging for Småpigen, who only has vision in one eye! On the steep up and down passage we could not get enough grip with our heavily pumped tyres, but after adjusting the pressure it got a lot better. There were a few passages that we already before start decided not to drive, but to run instead - mostly because a broken collar bone would not fit into our plans for the rest of the holiday.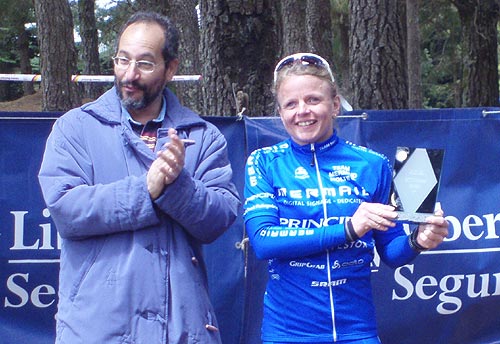 The guy to the left also wants to make friends with Pia
Well, what the h... we had to go and do it. We were both doing 4 laps, participating in Open Class. Gabor actually has a ICU license, but did not bring it to Madeira. If he was participating in Men Elite he had to do 8 laps, which actually would have fitted him better, being better on long distances than in sprint disciplines.
We started last of the field, but quickle overtook a lot, and was positioned OK before the first single track passage, where it was impossible to overtake. The young guys went really fast in the beginning, but soon they seemed to lose momentum, and Gabor came up close to the leading group...but a lost chain cost him some precious time and had to work hard to gain time again. After doing that he got stuck behind two very slow girls at a long narrow passage, so he lost a minute there. But he actually did some very fast laps in about 9.07, which was somewhat faster than the elite guys. He finished 2nd after the fastest guy of the day...we were wondering why he did not do Men Elite...? Alex finished 2nd in Men Elite.
Pia was by far the fastest girl of all today, and had a great race with no defects or crashes. Some of our new friends congratulated us and we were having a good time with them.
After finish there was the victory ceremony, we had a gold and a silver medal and a very fine trophy for Pia. Good thing that one us were carrying a backpack for all the extra gear:-). After saying goodbye to everyone...one of us thought that we now deserved to go home for some rest, but no! When you travel with the Eastern European Coach (Gabor is Hungarian) you have to follow his methods of coaching...and he still does it the good old-fashioned Russian way;-)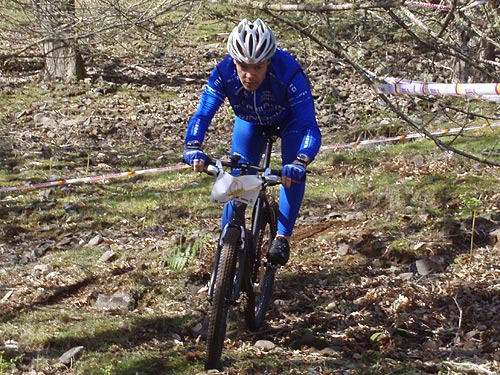 Team Coral
The other participants went into their vars and went back home for lunch, but not Piaskaja...being up here we might as well continue towards the top of the mountains. Up up up through a beautiful landscape, sunshine and very blue sky. After 1500 m+ we took a left turn and went back towards Dolls House. After a few flat tires we arrived in our wonderfully smelling garden at 15.30.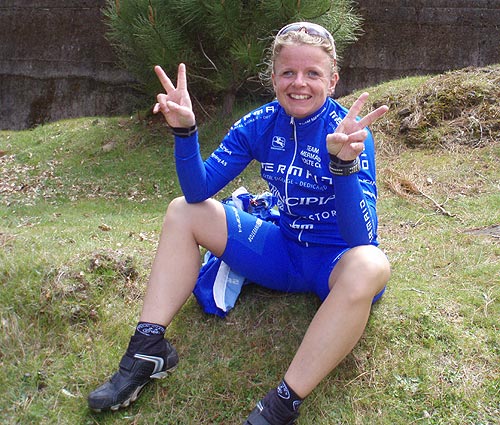 Pia after medal and trophy but before she realized that todays training was not over
The rest of the afternoon went with lunch, and after that one us was sunbathed and the other one did the laundry, repairing punctured tubes, washed bikes...and we only had 1 Coral...but one of us were happy to get a suntan!
Again today we barbecued and sat outside in the lovely garden until darkness came. Then we went inside, lit the stove and some candles. This is really a nice place, Madeira, wonderful climate, everything is green and there are flowers all over and the landscape is fantastic. This combined with very nice people makes it a perfect place to stay.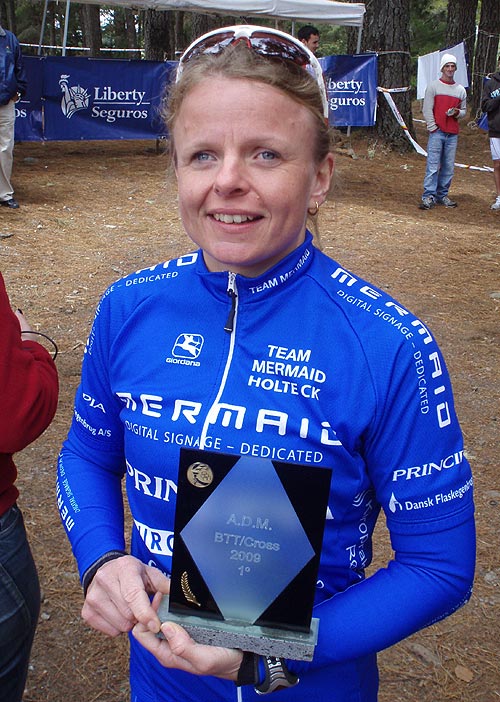 This years first Team Mermaid victory is home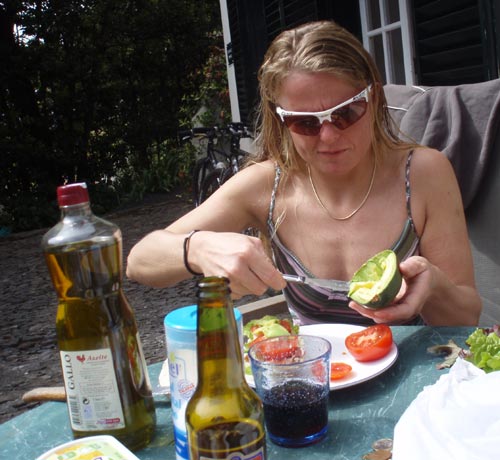 The lonely Coral
(ALREADY ON DAY TWO!)
Tomorrow, if weather allows, the trip goes to the highest point, Pico Ruivo (1862 meters above sea, mas). If we can make it all the way up depends, above from the weather, also if we will be able to pass some tunnels and other difficult passages on the way, from 1816 m and the rest of the way is only a walking path. But we will see.
4. april 2009
Up at 9.00 after a good sleep. we walked to the bakery, that Filipe had described yesterday, and to our joy, we found out that it was possible to eat breakfast here. Soon after we had a new friend, the guy who sold us the breakfast. He gave us some good tips about where to go and what to see. After that we found The Corner Shop, a tiny shop selling the most urgent necessities and that is situated just outside the main gate to our house. Nice to not have that far a walk when I have to go and get Coral for Gabor!!!
We had to assemble the bikes - it is always exciting to discover whether they have survived the travel or not? Not quite - Gabors bike, the brand new Spectre MTB had a large scratch on the frame, unfortunately! But it was functioning all right. We went to the supermarket in Cancela and bought groceries for a few days - I clearly remember when we a few months ago were in Tenerife; the first bike trip lasted 11 hours, and all shops had closed when we got back.
After that it was finally time to go out for training; we would try to go towards the middle of the island in order to check out the roads etc...but, but, but Småpigens bike chose now to make increasingly more noise from the bottom bracket...it had just had a large check up back home...
Well it was so bad, that we had to find a bike shop and hope that it was open still (Saturday afternoon!) and that they had the necessary type of bottom bracket in the right size...so we were actually not that optimistic. Master coach was not especially excited that I might not be able to use my bike for days...and if I had to rent one, it would probably be a very heavy one! And how fun would it then be to wait for me all the time. Our bikes are very light, 7-8 kg, which is extremely light for a MTB. We went to Cancela, where we had spotted a bike shop.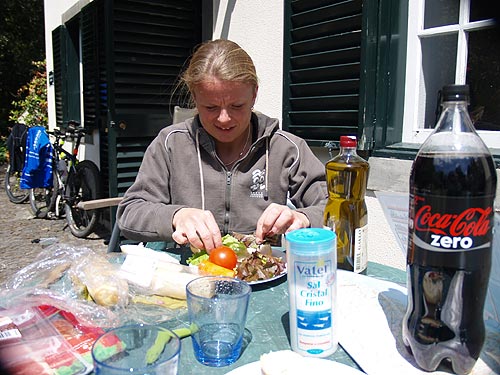 Not much luck there - the shop never opened although the sign on the door said it would. Some MTB downhillers asked if we needed any help, and he gave us the address to Bike Zone, a large bike shop in Funchal, which should be open and, if any, capable of repairing my bike. We went there on the increasingly defect bike and was received by a most helpful crew, who eagerly started to fix my bike and replacing the bottom bracket, it was completely finish. Should not be that easy however, it took several attempts to find the right one, but they finally succeeded. It was very cheap also, 43 euro. The best thing was that Alex (the bike mechanic) after having spotted Gabors very fit body, asked if we did triathlon or did bike races? And we could not deny that, so after 5 minutes we were both signed up for the regional championships in Cross Country MTB the following day somewhere in the mountains. Great!
Involved in the project is also Filipe (or his friend with the large taxi), who will take us there in the morning. Shall be exciting to watch Gabor compete against the local youngsters...but I have to admit that the preparations have been tip top; rumours have told, that he has been seen drinking a glas of orange juice here this evening. Småpigen claims that it was a glass of Limoncello (ital. liquor). Furthermore 5 Coral is missing from the fridge + ½ liter vino tinto...But don't worry, everybody knows that it is the equipment and not the man who counts:-)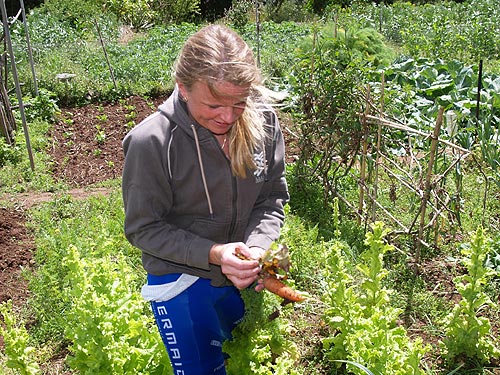 Well, well -this is just some of the things that have happened here today in the land of straw hats...we have met Francusco, the gardener, who was very nice and welcomed us and told us that we could take vegetables from the garden (the size of ½ football field)...so we did that; onions, beans, potatoes, carrots, cabbage, leek,lettuce, thyme, rosemary etc was available.
For the weather interested (read: Mallorca people!Mallorca had terrible weather this spring!) the weather has been terrible: Sun and 22 degrees celsius.:-)
Just another boring day is nearly over :-) Right now we are having a tough time, sitting in front of the wood burning stove with a glas of... and preparing mentally for tomorrow. Bike wise it summed up to 50 km and 1300 vertical meters, so in Master coachs opinion just another resting day:-x
3. april 2009
Today was the day where we were off to Madeira; jubii, jubiii, jubii...have been looking forward to that for a year now. Fortunately we did not lose these flight tickets due to the Sterling crack (like we did with our Tenerife tickets:-( )
We left Copenhagen Airport at 14.55, and landed 4 hours later in Lissabon, where we were to spend 4 hours before our next flight. Gabor once again revealed his commentator talent, this time he was the co-commentator on "O preco oferta" a really exciting guess-the-price-on-the-pot-quiz on portuguese tv. That way the time flew, so finally it was time for the next flight to take us to Madeira. According to plans we were to be picked up by Filipe, who works for Quinta da Fajã, the property on which we have rented The Dolls House. He was there to welcome us, together with a large crowd of clapping locals, who would have thought that it was SUCH a big deal that we were coming??? Perhaps they were welcoming the local female football team, that returned from a tournament with silver medals round their necks.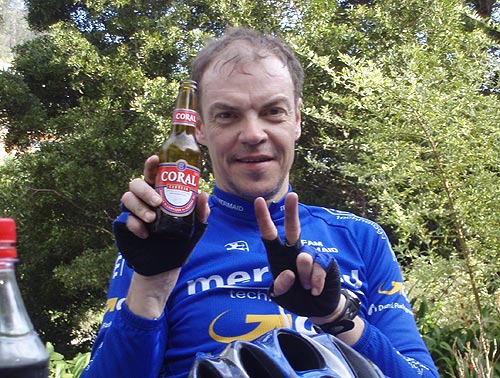 I will not be able to answer that question, but I prefere the first... Gabor thought he was in heaven, seeing a giant sign: "Coral welcomes you". For information Coral is the local beer here on this island, and ever since we were here last time, Coral has been synonymous for beer at our house. All beer in Casa Klöczl is called Coral.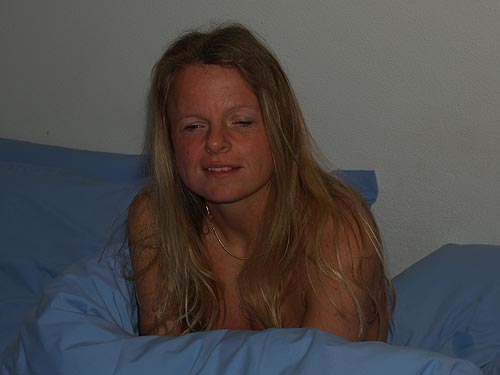 Well, Holger (the agent who arranged everything for us) had done a great job, making sure that we could have both bikes, luggage and ourselves in the car. We were driven all the way to the door in The Dolls House, packed our stuff out, and eventually we could climb into the far too big double bed, pretty tired, at 02.00 local time, which for us meant 03.00. Being all black night, we could only get at hinch at the place, but it looked promising. The house inside was adorable, and just as we had imagined. It will be very exciting to wake up in the morning to see what it looks like tomorrow!